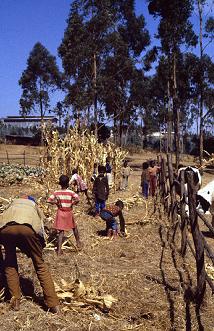 Agriculture
The school runs a multi-purpose farm. It contributes income to the school and its projects. It is also a valuable education tool and supplies food for foster families and those on the feeding programmes.
The dairy farm currently has 35 milking cows, 7 pregnant cows, 5 heifers, 12 calves and one bull. The chicken farm which at its height had over 5,000 birds is now closed, as the high cost of chicken feed was rendering it uneconomic.
In total the farm, which also includes a tree nursery and vegetable growing, was able to produce a profit of 54000 Birr (approx £3000) for the year, a useful contribution to toward the running cost of the school.