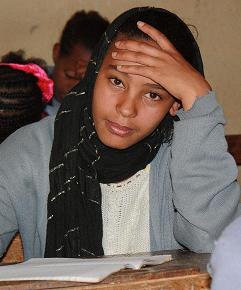 Asra Hawariat Education
In the 2010-2011 academic year there were 1276 children (703 girls and 573 boys) attending the school - nearly all of them too poor to pay the small registration fee ('cost sharing') for a government school. We are increasingly empahsizing education for girls, as they labour under greater disadvantage in both society and the work place.
The school has always been rated as excellent by Ministry of Education inspectors and others. Most years we achieve a 100% pass-rate in the Grade 8 National exams The reasons for this are a conducive educational environment which enhances the teaching and learning process, strong administrative follow up and support, interested teachers, relatively small class size and financial and material assistance for needy students.
In addition we run a kindergarten for 260 children in another part of the city, a slum area known locally as Rebakantu - the place where people cry and nobody hears them. We also work with the (mostly young, single) mothers, offering parenting classes, and a simple credit union, which has proved a great success.